Hey Style Kat, welcome back!
With Thanksgiving and Christmas just around the corner, it's about time to flex as the flyest cousin at the family function and sport a viral-worthy outfit pic.
I've been trying to re-up on some new threads for the fall because my wardrobe has been desperate for a pick-me-up. I did some sleuthing and so far, I've found some online sites that sell great quality clothing for an affordable price. Not to mention an app that I love that offers college students a ton of discounts!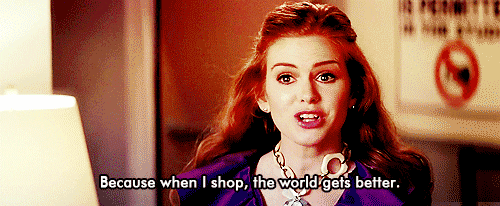 I'm going to share a list of sites with you, featuring some of the hottest sales of the season:
---
UNiDAYS is an app (my guilty pleasure) that offers student discounts on clothing, designer, shoes, beauty, and more. Not only do you save money online, but you can even save in store too!
All you have to do is sign up for the app by registering with your student email, then verifying your student status by following the instructions in your school inbox.
---
NastyGal is offering 50 percent off on every. single. thing. Including sale items!
Find all of your fall essentials like chunky heeled boots, cozy knits, moto jackets and trenchcoats and score half off at checkout!
Use Code: GET50 (55 percent off via UNiDAYS)
---
Missguided is offering a few new deals right now. First, get free standard shipping for orders of $50 or more.
This site is also offering 40 percent off new season items (excluding sale and the Carli Bybel x Missguided collection), and 30 percent student discount (excluding sale).
Find flashy dresses (perfect for special occasions), beautiful blouses, and fall essential accessories at an irresistible price.
Use Code: babenew (40 percent off new season)
Use UNiDAYS code for 30 percent off student discount.
---
Boohoo is offering 50 percent off everything including menswear and kids clothing! Catch the sale while you can–it ends tonight.
If you can't shop the sale right now, no worries! UNiDAYS is offering a 55 percent off code that can be applied during checkout! Also, get free shipping on order $50 or more.
Boohoo is always offering great discounts so check their site regularly for more promos! They add about 100 new items to their site everyday.
Boohoo Code: *automatically applied at checkout
Use UNiDAYS code for 55 percent off student discount
---
Lulu's is perfect for all of my girly-girls out there. Right now, they're running a "win. shop. love." Shop here for early Black Friday deals.
You can spin the virtual wheel everyday. Whatever the arrow lands on, is the discount that you score.
Five lucky spinners can win a $1,000 shopping spree on the site. The promotion ends on Nov. 21.
*Promo code depends on where the arrow lands.
---
Find deals on both LoveCulture and its counterpart, DebShops. The two brands are offering 30 percent off on fall fashion. Plus, free shipping on orders $50 or more.
DebShops is a shopping destination for curvy women to hook you up with the latest in style and carry sizes 1 to 3X. I love this dress and this jacket!
LoveCulture offers the same hot new styles that you are sure to find for a delectable price. Check out this cardigan and this sweater!
Use Code: FALL30OFF (Applies to LoveCulture and DebShops)
---
I can't wait to share my fall looks with you and I can't wait to see how you slay for Turkey Day! Where are some of your favorite places to shop online? Got anything to add to the list? I wanna hear from you! Sound off in the comment section below.
As Always, Keep on Stylin'!
XOXO,